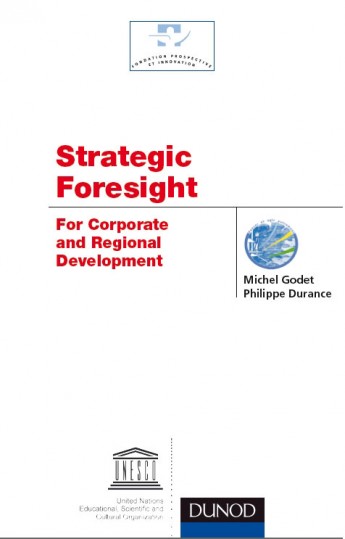 Strategic Foresight for Corporate and Regional Development
Orders for Bilingual Editions in French and 7 Other Languages
With the support of members of the Entrepreneurs of the Future Circle, a joint program of the National Centre for Entrepreneurship at the Conservatoire des arts et métiers (CNAM), La prospective stratégique pour les entreprises et les territoires has been translated into seven languages (English, German, Spanish, Portuguese, Italian, Arabic, Chinese). This introductory text, entitled in English Strategic Foresight for Corporate and Regional Development presents concepts and methods developed by the French school of prospective, recognized both in France and around the world.

With the cooperation of Dunod and the support of UNESCO, bilingual editions including the French original have been printed in limited runs. You may select any of the following pairs: French-English, French-German, French-Chinese, French-Arabic, French-Spanish, French-Portuguese. For more details, see the detailed presentation including the table of contents and introduction in each language on the website at the following address: http://en.laprospective.fr/books/search/free-search/foresight/
Reminder : This publication may be downloaded free of charge in any of the seven languages; however, the French version is published separately by Dunod in the Sup Management Collection (available as of September 2011 for 20 €).
Group Order
The price is 10 Euros per copy (airmail included) with a minimum order of 10 books (total per order: 100 Euros). Orders must reach us by July 10, 2011 at the latest to ensure September delivery.
Individual Order
To order a single copy at the price of 20€ (postage included ), please contact the Fondation Prospective et Innovation directly at the following address:
Fondation Prospective et Innovation
1 rue de Courty, 75007 Paris
France
Form of Payment
Your copy will be sent upon receipt of payment.

You may make your payment by Swift to the Foundation account (RIB).
Code bancaire : 18206
Code guichet : 00416
Compte : 60197016512 Clé : 89
IBAN FR76 1820 6004 1660 1970 1651 289
BIC : AGRIFRPP882

Contact
Irène KERNER
Fondation Prospective and Innovation
1 rue de Courty
75007 Paris
Tel 0033153858401 – FAX 0033153858409
i.kerner@prospective-innovation.org